93% of our Western Red Cedar goes into the production of our fence pickets. The other 7% ends up going into secondary products like Tree Boxes.
Mostly used by tree farms and nurseries, tree boxes, or planters, are perfect for those looking to spruce up their backyard. Planting trees in tree box planters can provide a new aesthetic that your backyard or nursery is needing. Whether you are looking to add some variety to your yard or to provide some extra shade, tree box planters allow you the flexible solution without planting trees permanently in the ground.
Tree Boxes Made with Quality Western Red Cedar
Our high-quality Western Red Cedar lumber comes directly from the Pacific Northwest to our mill, where we oversee the entire manufacturing process. The natural properties of Western Red Cedar are sturdy, lightweight and decay-resistant. Because of its composition, Western Red Cedar repels many different types of pest, which is perfect for these tree planters, which will protect the trees they hold. We guarantee our tree box planters are well-built with thick high-quality wood that will last for a long time.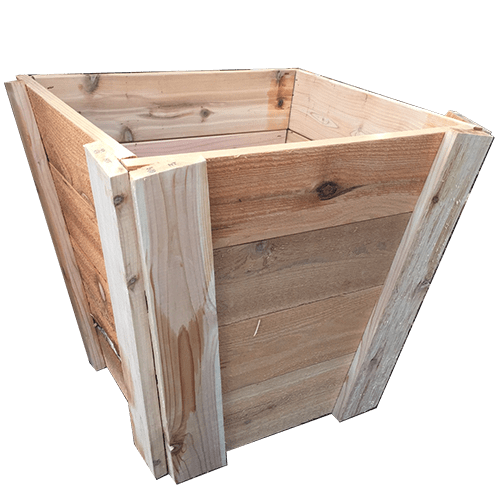 Tree Box Planter Sizes
Our Tree box panels are palletized and shrink wrapped, with 100 panels (25 tree boxes) per palette. They come in two different sizes, detailed below.
24″ Tree Boxes (Knockdown)
Dimensions:
Top width 22″ inside, 24″ OTO (Outside to Outside)
Height 22 1/4″
Bottom width 15″ inside, 17″ OTO
36″ Tree Boxes (Knockdown)
Dimensions:
Top width 34″ inside, 36″ OTO
Height 30″
Bottom width 25″ inside, 27″ OTO
Staying Green & Chemical-Free
Since we own and operate our own lumber mill, we use our excess lumber to construct our tree box planters, ensuring less waste. Manufacturing tree box planters is one of the various ways we utilize every inch of lumber that comes through our mill and allows us to be even greener, and pass the savings to our customers. Additionally, our lumber is 100% chemical-free, making it safe for the environment and trees.
Western Red Cedar Tree Boxes vs. Plastic Tree Buckets/Boxes
Cedar tree boxes provide an attractive appearance for customers and cost normally cost less that plastic tree boxes.
Our cedar tree planters are 100% chemical-free and biodegradable, and can be reused or recycled easily to dispose.
Plastic tree boxes are not biodegradable and often end up in landfills.
Cedar wood tree boxes are easier for landscapers to remove the tree from, because they can take off the strapping around the box and separate the planter's panels without potentially damaging the tree.
Black plastic tree boxes absorb heat during the hot summer days which can damage the root system and destroy the tree.
Cedar wood tree boxes provide better drainage vs. plastic containers. Boxes will drain along the wood joints or seams. Plastic containers have drain holes only at the bottom and can get plugged causing root problems.
Round plastic containers will increase the problem of circling roots which reduces growth and reduces the viability of the plant material. The boxes reduce this problem due to the angle of the corners and the natural air pruning along the joints or seams of the boxes.
ONLY SOLD IN BULK. PLEASE CALL FOR A QUOTE.