Custom Wrought Iron Fence in Austin, TX
Viking Fence is the only fence company in Central Texas with a dedicated Custom Iron & Gate Division of this caliber. We use Viking Fence employees to fabricate and install all of the custom projects we work on. The quality of your project is our number one priority.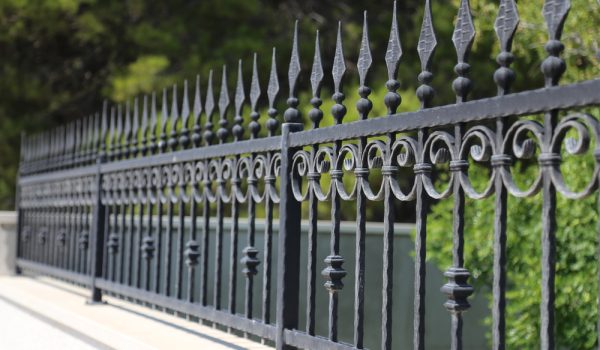 If you're frustrated with boring, lackluster fence options that compromise either aesthetics or durability, our custom wrought iron fences in Austin TX are a refreshing change of pace. They offer the best of both worlds: security and style. Whether you're looking to invest in your home or business, you can count on Viking Rentals to make it happen!
Read more

Invest in Peace of Mind With a Durable, Aesthetic, and Totally Custom Wrought Iron Fence in Austin TX!

Homeowners in Austin, TX, understand the importance of property value and curb appeal. Yet, every choice of fence seems to come with a trade-off.

Wood fences decay, aluminum lacks character, and standard steel may rust. You want a fence that resonates with the unique charm of your home, withstands the harsh Texan weather, and provides top-notch security. And in a market saturated with 'one-size-fits-all' solutions, that seems like a distant dream.

But, it's not. Here at Viking Rentals, we're proud to be known as the premier choice in Texas for wrought-iron fencing solutions. These are going to help you finally enjoy peace of mind knowing your property is secure, while also adding a nice aesthetic touch to your home or business.

What Makes Viking Fences the #1 Choice for Wrought Iron Fencing in Austin, Texas?

Unlike other fencing companies, Viking Fence has a dedicated custom iron & gate division. That means you aren't going to be offloaded to some third party at any step of the process. It's you and us together from start to finish.

Our division crafts the most aesthetic and durable custom wrought iron fences in Austin, TX. Fences, gates, and handrails – we can do it all, fulfilling your unique needs without compromising on quality. Here are just a few reasons we've earned the reputation as the most trusted choice for fence supply in Austin:

Unmatched Quality: Our custom iron fences are made with either hot-dipped galvanized steel or true wrought iron. With a high number of weld points and a protective Dupont E-Coat powder coat, your fence will neither corrode nor age prematurely.
Custom Designs: Tailored to your specific aesthetic and functional requirements, our custom iron fences enhance the uniqueness of your property.
Safety and Security: Our fence designs come with the option for personalized walk gates and driveway gates, which can be further secured with keypad entries.
End-to-End Service: From design consultations to fabrication and installation, we provide a complete service package backed by a 10-year warranty against corrosion.

What more could you ask for? From commercial fencing in Austin to government fencing in Austin, and of course, residential fencing – we're proud to serve our city with an unparalleled commitment to customer satisfaction.

Let's get started today. Request a quote and together, we'll bring your dream fence to life.

Request a Quote Today and Let's Bring Your Custom Wrought Iron Fence in Austin TX to Life!

Life's too short for compromises, especially when it comes to safeguarding your home and amplifying its charm. Our custom wrought iron fence in Austin TX is one of the best types you can invest in. But, if you discover that this isn't the right fencing solution for you, no worries.

We also offer residential chain link fences in Austin, masonry fences in Austin, vinyl fencing in Austin, security access control systems in Austin, and a whole lot more.

Whatever you decide to go with, Viking Rentals is the name to trust. Reach out today for a personalized consultation, and let Viking Fence turn your dream of the perfect custom wrought iron fence in Austin, TX, into reality.
Download Area (Further Reading/Architect Information)