Commercial Chain Link Fence in Austin, TX
The experts at Viking Fence have been installing chain link fences/gates in the Austin, TX area for every application imaginable, from light commercial, to commercial to heavy industrial.  Feel free to browse our chain link gallery for images of recent projects.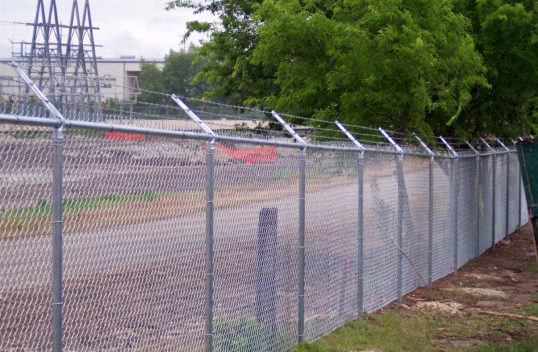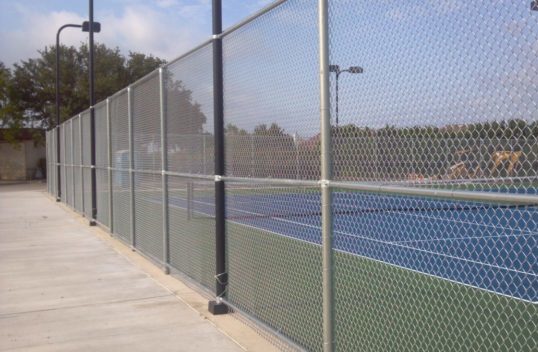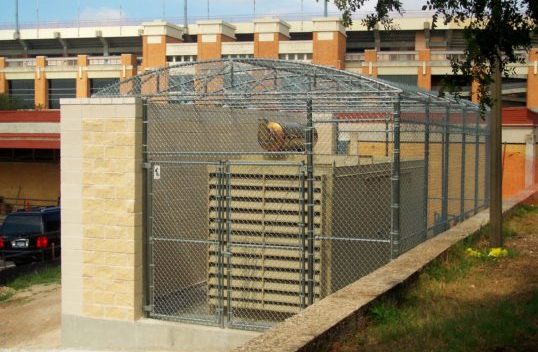 Enjoy Peace of Mind By Partnering With Viking Fence for a Commercial Chain Link Fence in Austin, TX
The security of your business premises shouldn't be a matter of compromise. Businesses constantly face challenges that demand robust security solutions. 
From unauthorized intrusions to the safeguarding of assets, a reliable barrier is indispensable. Chain link fences emerge as an unparalleled solution for commercial entities with their affordability, durability, and versatility. 
However, choosing the right fencing material and partner can be overwhelming. This is where Viking Fence steps in, offering unparalleled expertise and a legacy of trust.
What Makes Viking Fence the Most Trusted Choice in Texas?
Why are we the most trusted choice for fencing in Austin, and specifically, commercial chain link fence in Austin? Over the past 50 years and counting we've gained invaluable experience and solidified ourselves as the #1 provider around. Here's why…
Precision and Quality

: We understand that every commercial property has its unique fencing needs. With our exhaustive range of chain link fence specifications, we ensure that your fencing solution is neither over spec'd nor under spec'd.

Experience Matters

: Our extensive tenure in the fencing industry since 1972 ensures that we are equipped with the knowledge and expertise to guide you in making the best decisions for your fencing needs.

Commitment to Standards

: Our adherence to ASTM standards is unwavering. We not only provide top-notch chain link fences but also ensure they meet the industry's stringent benchmarks, making us a trusted partner for a plethora of commercial needs, from field enclosures to high-security installation
You can also expect world-class customer support every step of the way – from your initial inquiry to the consultation to the actual installation of your commercial chain link fence in Austin. Here's how it all works…
How it Works
Choose Diameter and Wall Thickness

: The foundation of any durable chain link fence lies in the robustness of the galvanized pipe framework. We provide you with options ranging from light commercial specs like 2 3/8" Diameter x .095" Wall Thickness to industrial specs, ensuring sturdiness tailored to your needs.

Select Gauge of Wire

: The thickness of the wire is crucial. Viking Fence offers gauges tailored for varying commercial requirements – from temporary constructions with 11.5 Gauge to heavy industrial applications with 6 Gauge.

Configure Diamond Size and Selvage

: A nuanced aspect of chain link fencing is the diamond size. Typically, smaller diamonds translate to a stronger fence, catering to diverse security needs. Whether it's for tennis courts or high-security areas, we ensure the right specifications for your project.

Add Coating Options

: Our fences can be coated in metallic or vinyl/polymer, offering further customization. These coatings not only enhance the aesthetic appeal but also increase the lifespan of the fence, ensuring you get value for your investment.
Don't stress if all these terms have you confused – we're going to walk you through it all. You've found the perfect partner in getting your commercial chain link fence in Austin. All that's left to do is take the first step by reaching out today. 
Take the First Step to Getting Your Commercial Chain Link Fence in Austin by Reaching Out Today!
Remember that Viking Fence isn't just here to provide industrial solutions. We specialize in residential chain link fence in Austin as well. 
And, if you aren't sure that chain link fence is the right style for you, don't hesitate to reach out. We can discuss Austin commercial fencing alternatives like vinyl fencing, wrought iron fences, masonry fences, access control systems, metal fences, security fences, Austin commercial security systems, and more.
Protect your assets, secure your premises, and invest in a partnership that lasts. When you think of a commercial chain link fence in Austin, think Viking! Contact us today and embark on a journey of security, reliability, and trust.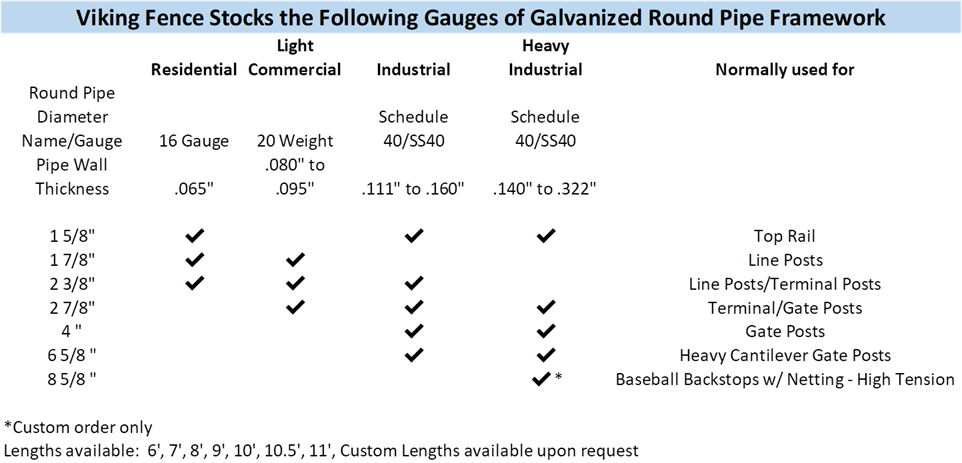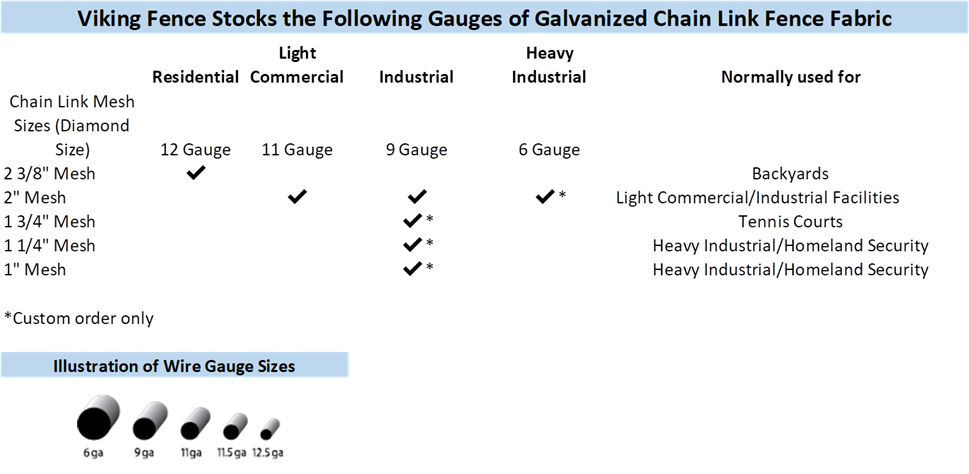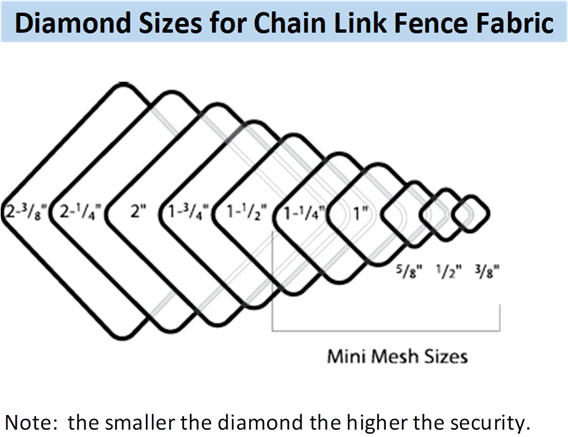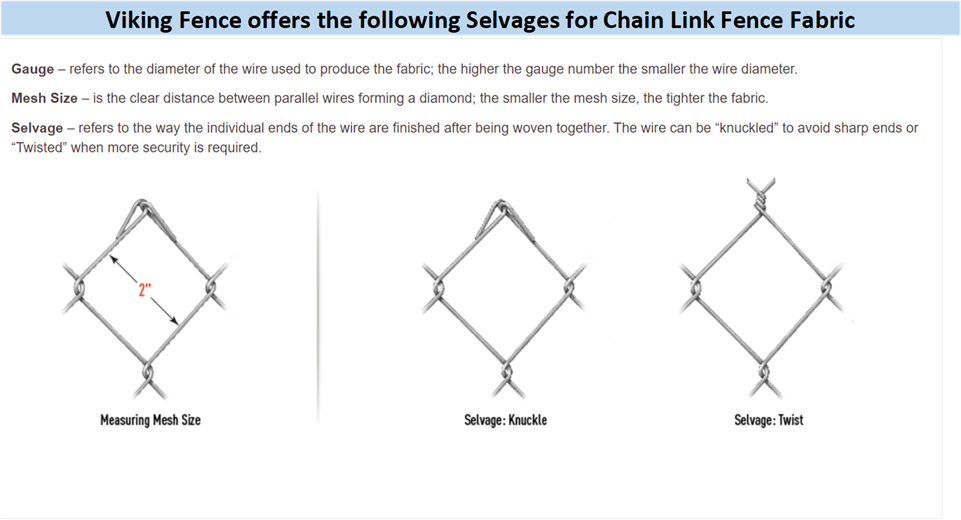 You can trust Viking to ensure that your fence isn't over spec'd or under spec'd.   If a fence contractor only focus on price, please make sure you understand what he/she is specifiying.
Here are some common specifications:
LIGHT COMMERCIAL SPECIFICATIONS
Tubing:   Normally .080" to .095" (Schedule 20 Tubing/BSS) Wall Thickness
Line Posts:  2 3/8" Diameter x .095" Wall Thickness
Terminals/Gate Posts/Corner Posts:   2 7/8" Diameter x .095" Wall Thickness
Top Rail:  1 5/8" Diameter x .080" Wall Thickness
Chain Link Fence:  Normally 11 Gauge Wire and 2" Diamond size
The most common way that this spec is altered is by substituting residential products.
INDUSTRIAL SPECIFICATIONS
Tubing:   Normally Schedule 40 Wall Thickness for all Framework
Line Posts:  2 3/8" Diameter
Terminals/Gate Posts/Corner Posts:   2 7/8" Diameter
Top Rail:  1 5/8" Diameter
Chain Link Fence:  Normally 9 Gauge Wire and 2" Diamond size
Please review our "How to Buy A Chain Link Fence" Guide