The Rules: Pool Fence Regulation in Texas
As more and more homeowners are investing in outdoor recreation areas like pools, the use and history of pool fencing are becoming of interest. Man-made pools actually date as far back as the Romans, known for their elaborate bathing rituals. Back then, the public water spaces were built from materials like brick, tar, and plaster, alongside their elaborate barriers and walls completed with decor like engravings.
Today, pools are typically constructed with concrete, stone, or metal and come in a variety of shapes and sizes to suit each home's aesthetic. However, as pools become more common, more safety regulations have been put into place. Pool fencing serves more of a functional purpose rather than merely ornate. Nonetheless, it can still be used today as a way to enhance your outdoor living area. 
What Pool Fence Regulation and What It Means for You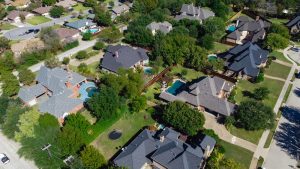 Each state has its own rules and regulations regarding fencing around pools. To find out which laws are relevant in your state, it's best to contact your local building or health department and ask about the latest requirements. 
To ensure that you're following the correct laws, you can also get help by hiring a trusted pool company and enlisting their aid with inspections of your current pool, or with the plans of your upcoming project to install one. That way, you can avoid any violations and remedy them before someone gets hurt, or you get fined. 
In Texas, it is legally required for all pools beyond a depth of two feet to be surrounded by a fence of at least four feet in height. There are also more detailed regulations regarding the type of fencing, where it is installed, the gate, and the pool's exposure. If your pool doesn't follow the Texas regulations below, it may be time to hire a professional pool inspector and get the process started. 
Texas Swimming Pool Regulation Overall
According to the
Texas Administrative Code
, these are the current regulations needed to be adhered to in pools:
All pools must have fences surrounding them that are at least 48 inches tall. They cannot be made of chain link material. 

No fence may have a gap at the button or vertical fence slats that are big enough to allow a ball that is four inches in diameter to pass through.

Gates must be at least 48 inches tall and meet the same requirements as fences. They must be self-closing and self-latching with the latch located on the inside of the gate. Gates must swing inward away from the pool. 

All doors must be self-closing and self-latching. The door also needs a keyless bolting device that is 36- 48 inches off the floor.

If a wall serves as a boundary on one or more sides, any doors or windows must have an alarm installed on them. Alarm bypass buttons must be tall enough for children to not reach.

Above-ground swimming pools must abide by the same rules as inground pools to prevent unauthorized access.

If a pool has both horizontal and vertical slats, all slat attachments must be on the inside of the fence, not outside.
Texas & Swimming Pools
 Residential Pools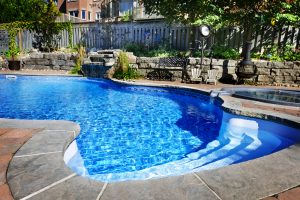 The exemptions to having a pool fence in Texas are having a pool with a barrier that is an integral part of the building structure and pools that are already enclosed by a permanent fence that is at least 5 feet in height. 
Complying with such laws is highly important. According to Texas law, you will be held liable for any accidents on your pool property and proper rule adherence was not followed, even if an accident occurs by trespassers. 
Violators, even without accidents, will face a heavy fine of an average of $200-$1,000 per day depending on the extent of the infringement of the law. Neighborhood protection managers also have the right to repair a defective swimming pool barrier to your household. 
 Public Pools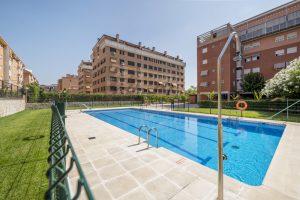 Public pools in Texas are not required to follow the same fencing laws if they are staffed by a lifeguard and the pool is only used for swim instruction or swim team practices. 
Otherwise, if the legal requirements are not adhered to it is considered a Class C Misdemeanor and will be fined up to $500. Further legal action may be considered depending on the circumstances and any accidents. 
Dallas
Like all of Texas, private pools in Dallas need a fence that is self-closing and latching and follows the other general safety measures. However, Dallas itself requires that pool fences are at least 6 feet tall rather than 4 feet. They must also have no opening greater than 4 inches and have a functioning alarm installed. 
Dallas currently has nine outdoor community pools according to Dallas Parks. Dallas is also the tenth on a list of the top 10 cities in the United States with private pools, with 13.8% of homes having pools currently installed.
 Austin
The city of Austin, Texas has the general Texas requirements in addition to requiring that all gates must always open away from the pool and the latch must also be at least 54 inches tall with the gate kept locked at all times. 
Public water facilities are popular in Austin, with up to  45 public aquatic facilities available! Homes with private pools are highly valuable, with an average home value increase of $52,228 after construction.
Houston
In Houston, pools must adhere to the typical Texan laws regarding pools, as well as keep a clearly visible sign that reads "No Swimming When Unattended." 
According to the HBW Report, Houston follows Dallas as one of the top areas in the state for pool construction in 2022 (up to 950 new pool permits), with the highest amount being built in Harris County. 
Why Are Regulations in Place?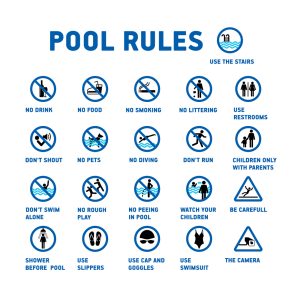 All of these regulations are a small trade to help prevent accidents, injuries, and even death from risky pool use. Drowning is one of the top causes of death in the United States, especially for children aged 1 to 4, which on average kills 3 children per day. An average of 4,000 accidental drownings occur each year, or 10 people daily.  Many of these fatal drownings occur in privately owned pools. 
One of the biggest risk factors for drownings like this is improper fencing. This makes it possible for children to gain access to pools unsupervised. Fences that isolate pools from the yard can reduce a child's risk of drowning by 83%! There is no excuse to not follow the proper regulations and keep vulnerable populations safe and give you greater peace of mind. 
Not only that, but you'll be able to help maintain the quality and look of your pool by offering an additional protection barrier against pests and some abrasive debris from storms and even add a decorative feel to the area. 
How to Install a Pool Fence Properly
If you're concerned about proper pool fence installation, it's best to have a professional do it for you. That way, you'll be able to ensure that all regulations are followed and your fence will be beautiful, durable, and effective. If you're interested in starting the process, contact an expert at Viking Fence to get started!